Smoke and Water Damage Cleaning
24/7 Response
Unfortunately, emergencies do happen, but fortunately, Carpet Knight is available 24/7 with state-of-the-art equipment and products to help prevent permanent damage to your precious upholstery and carpet.
Because it is impossible to assess the extent of smoke or water damage over the phone, we MUST visit your home or business to give you a complete price quote.
24-hour Emergency Flood Damage Cleanup
Our emergency equipment is only a phone call away - 7 days a week!
($85/hour - minimum charge $500 - air blowers are NOT included)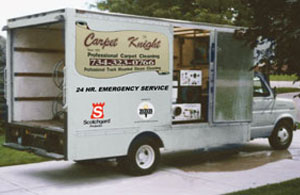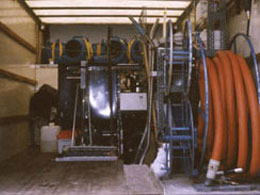 Some Tips to Keep in Mind for Smoke and Water Damage
Do not use your upholstered furniture if it can be avoided, until after it has been professionally cleaned. It is important to have your carpet and upholstery cleaned as soon as possible. Smoke odors can be difficult to remove due to penetration and absorption into fibers. Carpet Knight has the professional knowledge, products and equipment to permanently remove stubborn odors.
Do not attempt to clean your furniture or carpet yourself with over-the-counter cleaning solutions! Smoke and flood waters introduce toxins and molds which require professional handling. Over-the-counter products leave residues that become impossible to remove and can permanently ruin your carpet and upholstery.
Especially important in the case of wet or damp carpet and upholstery:
Turn off the breaker in the damaged area

before you unplug or remove any electrical devices located on wet carpet.

Don't use your home vacuum on wet fabrics or carpet

, since electrical shock may result, as well as damage to the equipment itself.

Don't cover wet carpet with newspaper

to walk on, since newspaper ink transfers easily to the wet carpet and could cause permanent staining.

Don't walk on carpet

any more than necessary. This will help keep the damage from spreading to unaffected areas.

Place aluminum foil under legs of any furniture which is in contact with wet carpet.

This can help prevent furniture stains on your carpet.

Lift draperies away from damp carpet and pin up upholstered furniture skirts

so they cannot absorb water from the carpet.

Remove books, shoes, toys, potted plants, and other items

which may stain wet carpet. Wet carpet is particularly vulnerable to staining and damage to the fibers.